Rollerball Mini-bowling has established itself as the most dynamic and innovative addition to almost all entertainment applications. Because of this, Rollerball Mini Bowling – the small ball system that will have a big impact on your bottom line.
The formula is simple: minimal space, virtually no maintenance, and an exciting fun experience. Your customers will enjoy the fun and excitement of our mini bowling systems, and it will be awed by our PULSE Scoring Entertainment System. Little bowlers can avoid gutter balls with our automatic bumpers that pop up at the push of a button.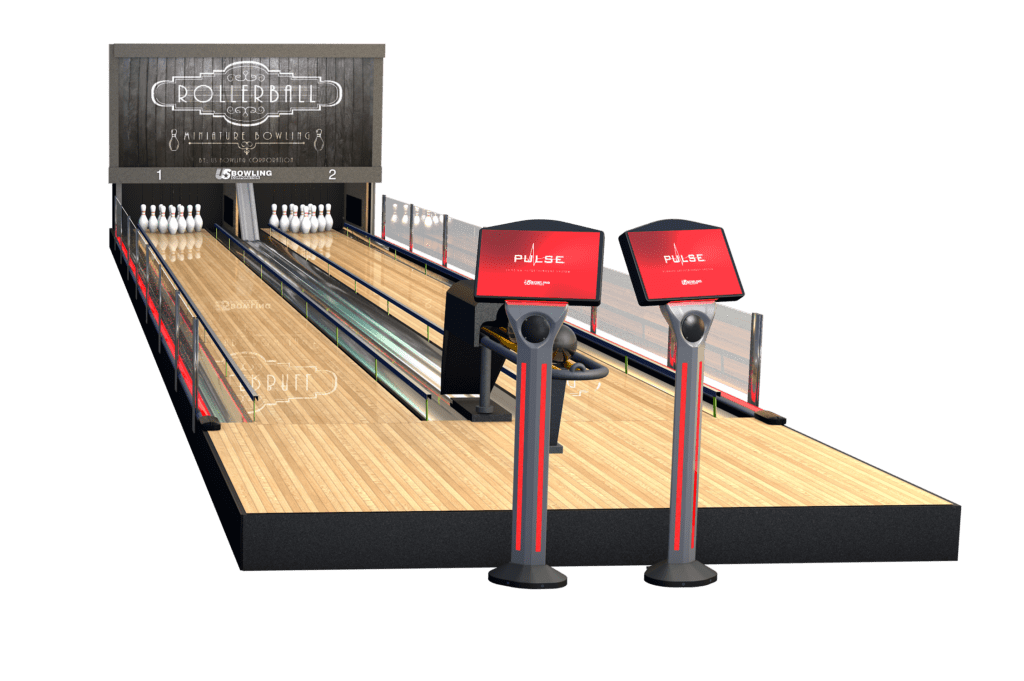 The footprint of Rollerball Classic is 43' long x 9' wide. The 43' length includes a 3' rear service aisle.
Accessibility has never been easier. People with physical disabilities can just as easily enjoy a game of bowling on our mini system. With it's raised lanes and no approach, Rollerball Mini allows bowlers to simply grab a bowling ball and have fun. At almost a 40% smaller footprint of any other mini bowling system on the market, Rollerball Mini is designed to provide hours of entertainment with minimal space. This 33 foot system lets you bowl more games per hour with its rapid player mode. The automatic scoring system let's the bowlers pay and play without the lengthy set-up-time traditional bowling can have; such as shoe rental, bowler name entry etc… The small but sleek design makes it bowl as good as it looks. ​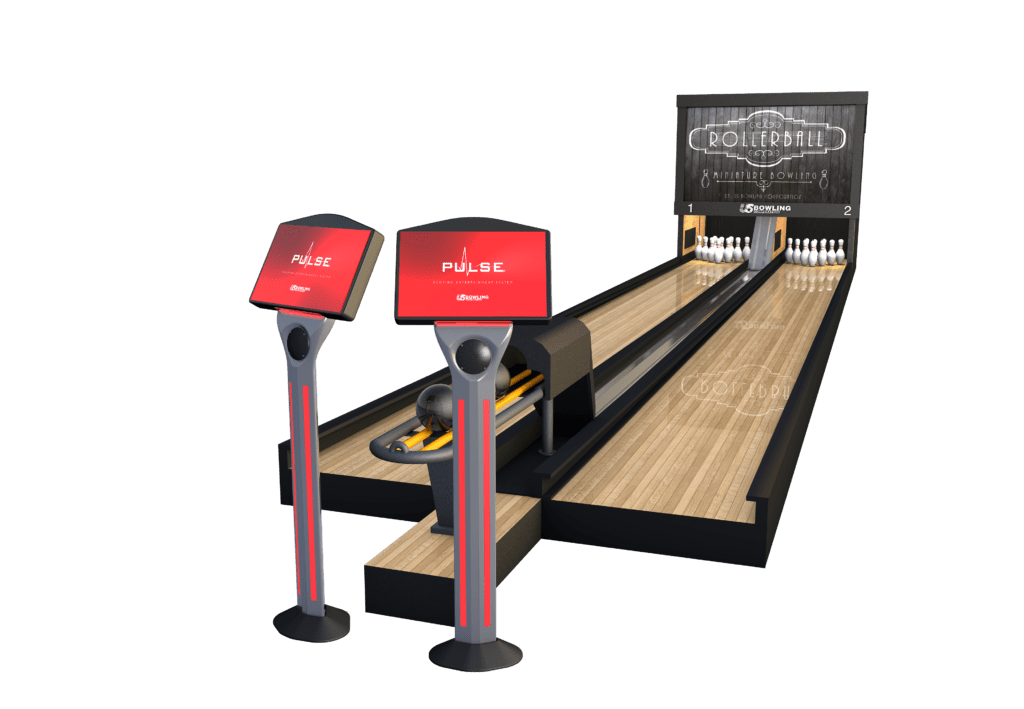 The footprint of Rollerball Mini is 35' long x 85" wide in the lane area and 95" wide at the pinsetter area. The 35' length includes a 3' rear service aisle.
HGTV's Rock the Block winners season 2
Winners Brian and Mika of HGTV's "Rock the Block" season 2 talk about US Bowling's Rollerball Mini Bowling and our PULSE Scoring Entertainment system.    
CEO Competitive Social Ventures
 "I was blown away with how little maintenance I've had to do with this great system. I highly recommend US Bowling"
With the best masking unit graphics to choose from, it's easy to change the look and feel of your Rollerball Mini Bowling System. This scaled down alley has the look and feel of full 10 pin bowling alley, complete with bumper, gutters video masking units and much more! Contact us today for a free quote.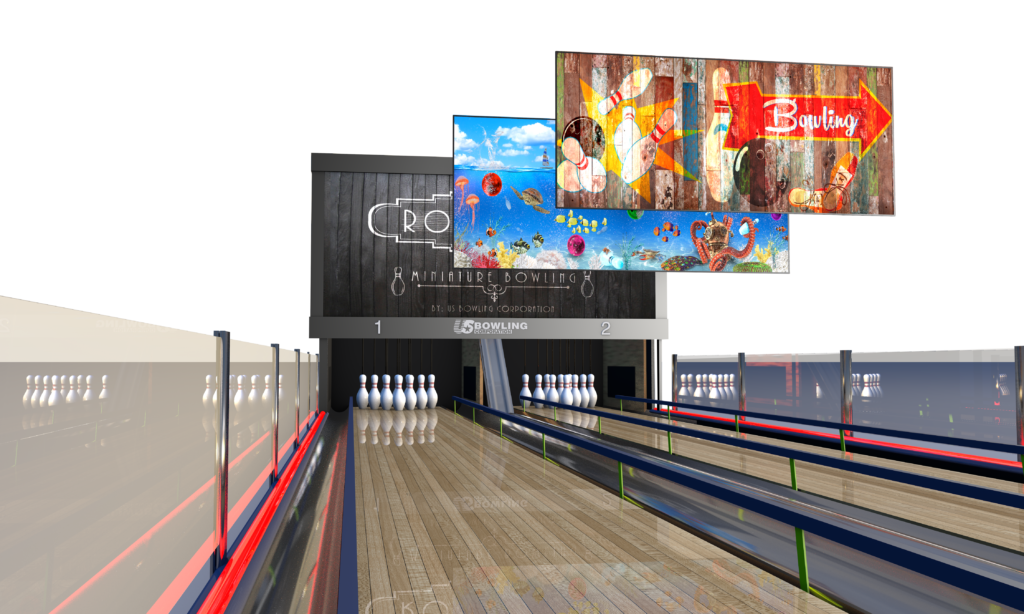 SYNTHETIC LANES AND BUMPERS​
These mini bowling lanes feature all the bells and whistles of a full-sized game and we build it using the same synthetic platform as we do our regular 10-pin bowling system. Rollerball is versatile and can be installed anywhere from movie theaters to breweries and restaurants, even in the home. ​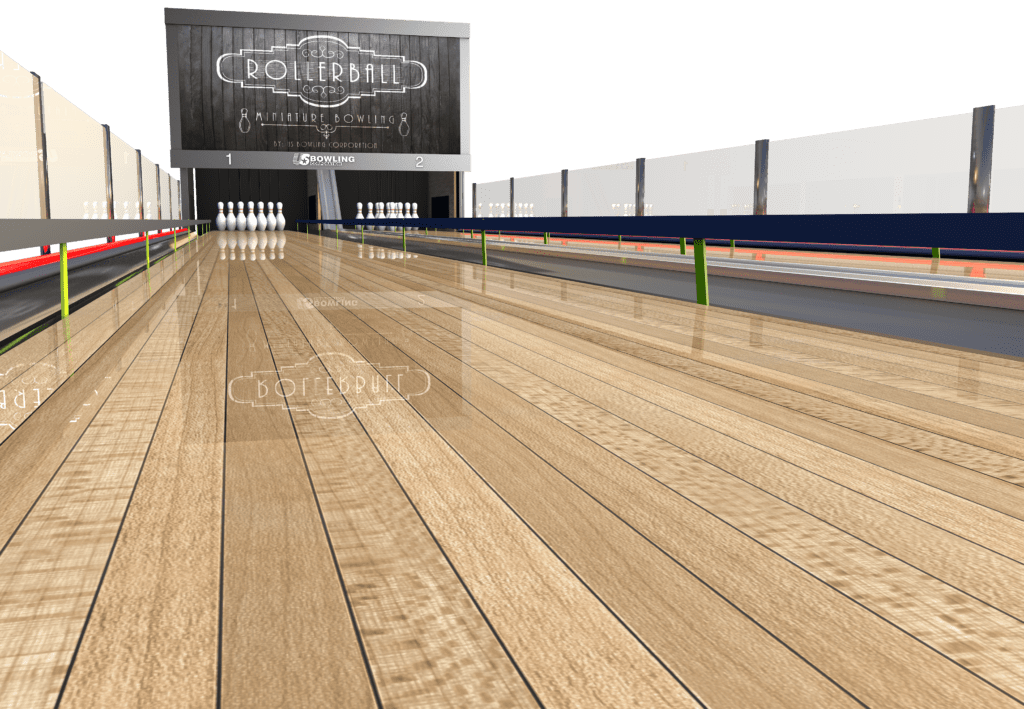 CHOOSE A PAYMENT OPTION With all Rollerball Mini Bowling systems, you have the option of coin, bill accepter, card swipe, prepay & post pay and even ticket redemption.
• Customizable System Length 
• Automatic Bumpers
• Custom Bowling Lanes
• Lexan Safety Shields
• Sidewall Graphics 
• Video Masking Units
• PULSE Automatic Scoring Upgrade
• Masking Unit Graphic Options
• System Payment Options 
• Scoring Monitor Size Upgrades
Contact us today (909) 548-0644 or